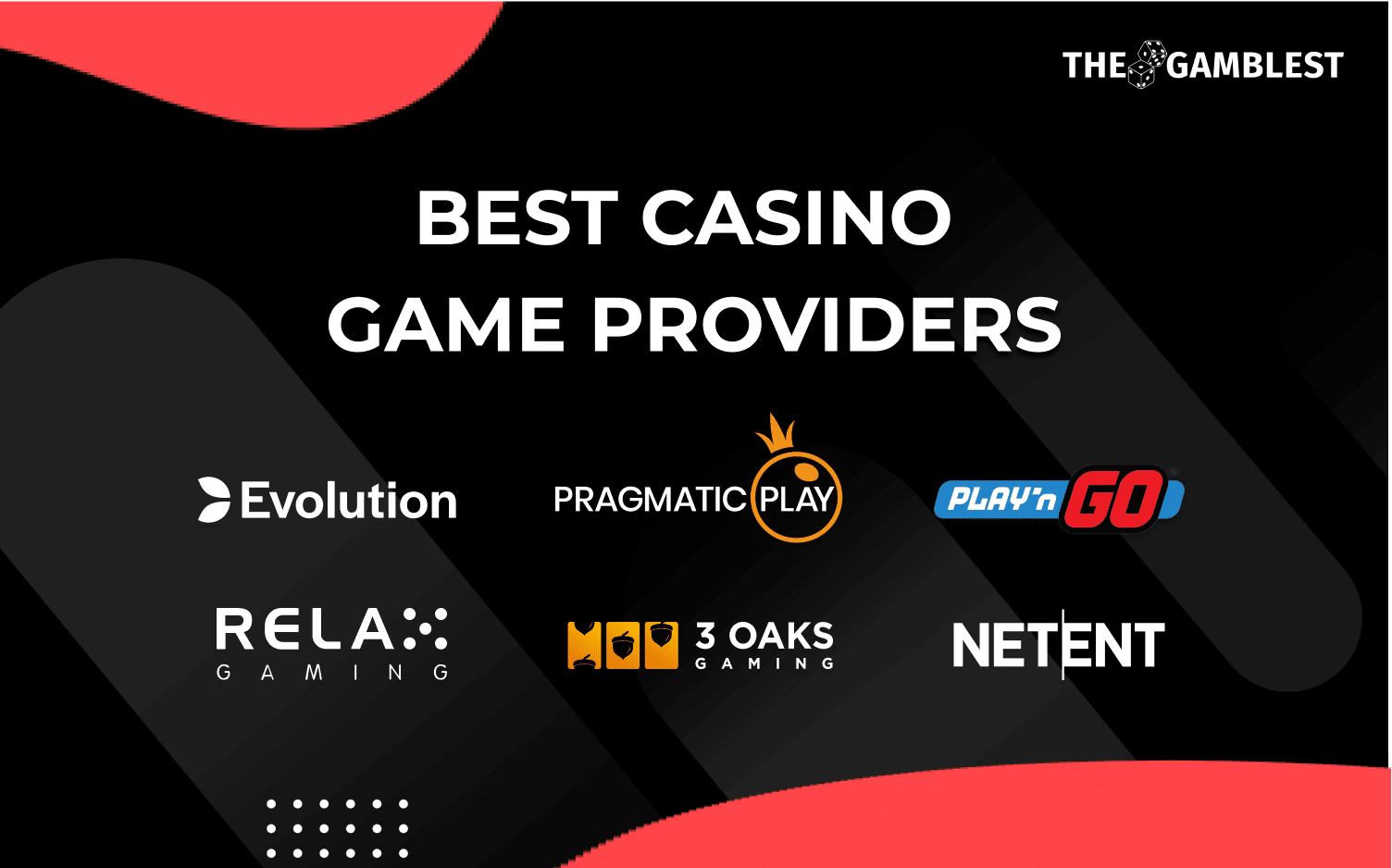 Finding the best online casino game providers is a vital task for operators, as the games are their main attractions.
Generally, the majority of online casino players are looking for classic slot games that mimic their retail counterparts closely and offer the convenience of playing anywhere and at any time. Some players like the quirks of retail gambling so much, they prefer live dealer games, while others may seek skill-based games, lottery games, or other even rarer game types, as the variety of gambling experiences available on the market is seemingly endless.
iGaming operators looking to deliver a wide variety of gambling experiences that appeal to vast audiences across the globe need to implement a large selection of games with varying themes and gameplay mechanics to achieve success. However, selecting which games to integrate into an online casino is not an easy task, with one of its hardest aspects being finding the best casino game providers to work with. In this article, we will take a look at the most important things to look for when choosing an online casino provider to work with and will explore which ones make the best titles.
Things to look for when choosing online casino game providers
When choosing which online casino game providers to work with, there are a number of things an operator should look out for to get the most value. Some things on this list are pretty obvious and self-explanatory, but others are quite insightful and will even benefit some of the best iGaming operators.
Quality Games
Starting off with an obvious one, the quality of the games themselves. Operators need to ensure that the games they are preparing to acquire have the highest quality visuals and sounds to deliver a great standard of entertainment for their player base. Another thing online casinos need to look for in terms of quality is the developer's gameplay mechanics. These play a crucial role in the engagement of the player, and if done wrong can be the cause of frustration for the users and less than ideal churn rates for the operator. However, if done right, high-quality gameplay mechanics can help operators deliver engaging content that players will be fond of, generating healthy yields in the process.
Customizability
Tying in nicely with the previous point, most games developed by quality casino software providers will have a plethora of variables available to customize the players' experience. This is important if operators want to cater to a wider audience, as features like customizable bonuses and volatility rates are vital for an operator's growth and success in the industry. Additionally, another form of customizability to pay close attention to is localization. Having highly localized experiences are critical for achieving success in quite a few markets, although international operators can also benefit from them by expanding their appeal in various jurisdictions. A vital part of achieving a high degree of localization is through the use of varied language and currency options, which is conveniently our next point of discussion.
Available Language and Currency Options
As mentioned previously, partnering with casino game providers that support specific languages is quite important for operators that offer their services in a few jurisdictions, where they want to deliver highly localized and engaging experiences. Online casino game providers offering compatibility with a wide range of languages and currencies, on the other hand, are quite well suited to international operators, as offering games in the native currencies and languages of players will always be more appealing to their audiences. Moreover, partnering with game developers that support crypto in their products is another great way of expanding an operator's worldwide appeal.
Variety
Another way of attracting a larger audience is by having a wide selection of titles and game types. While most people may be content with only traditional online slot games, many others may want to play live dealer games, skill games, virtual sports titles, or table games. There are many different types of games that are more niche and appeal to smaller audiences than traditional casino experiences, however, they are still an important thing to look for when choosing which online casino game providers to work with. Additionally, having a large selection of games with different themes and unique gameplay mechanics will further contribute to having a wider appeal.
Regulatory Compliance
This one is pretty important, as certifications, especially from the regulatory authorities of established gambling markets, are a sign of a decent quality product. Checking a casino game provider's licenses is also quite important for businesses operating in highly-regulated jurisdictions such as the UK, as local gambling companies cannot offer their services without the appropriate licenses. The best online casino game providers out there may even hold multiple licenses, giving operators the option to launch in multiple markets, which has the potential to massively accelerate their growth.
Integration With Auxiliary Software
The ability to integrate casino games with various auxiliary services is another important point. Operators that want to integrate player engagement-boosting features, such as casino loyalty programs, will need titles that can be integrated with them to offer players a custom-tailored experience matching their loyalty status. These integration capabilities are also quite important for operators that offer a high degree of localization through the use of relatively niche payment gateways, as casino game providers need to support them for the integration to work.
Catalog Expansion
One of the most widespread ways gambling companies use to keep their players engaged over the long term is by providing them with a constantly updated catalog of gambling experiences. This also applies to gameplay mechanics, as innovative ones are a great way of breathing new life into older titles and creating a new wave of popularity for well-known ones. While the main way operators around the world accomplish this is by constantly expanding their developer networks, partnering with casino game providers who continually update their catalogs with new and enhanced titles is another excellent option.
The best online casino game providers on the market
Now that we know what to look for, let's explore a number of online casino developers that top the charts with their high-quality products and services. For an even more expansive list of B2B companies, you can check out our iGaming B2B Directory.
1. Evolution
Specializing mainly in live dealer games, Evolution has made a name for itself in the vertical with its exciting games and shows, stunning backdrops, and highly trained hosts. Their games feature innovative mechanics, sometimes taking inspiration from popular games like Monopoly and turning them into completely unique experiences. The firm offers over 30 high-quality games and game shows which will please the pickiest of players. Being licensed by the Malta Gaming Authority and the United Kingdom's Gambling Commission, Evoplay's games can be distributed across a variety of prominent iGaming jurisdictions. The firm has worked with a number of dominant operators in their time on the market, such as DraftKings and 888Casino, further solidifying its spot as one of the industry's top live casino suppliers.
Industry Experience: over 16 years
Game Catalog: over 100
Licenses: MGA, UKGC
Top Offerings:
Crazy Time
Monopoly Big Baller
Lightning Roulette
Live Poker
Live Blackjack
2. Pragmatic Play
Having experience in pretty much every casino game vertical out there, Pragmatic Play offers a fully-featured catalog of award-winning titles. Since 2015 the firm has amassed a collection of hundreds of games, including nearly 200 slot titles, making them one of the industry's top online casino slot game providers. The business offers live casino services as well, having nearly 20 different games streamed from its top-of-the-line studio in Romania. It utilizes the best technologies available to deliver an exceptional experience for its live offerings, such as state-of-the-art cameras and streaming frameworks to achieve unnoticeably low video latencies. Pragmatic Play is licensed in 20 jurisdictions, including Malta and the United Kingdom, allowing them to work with international operators.
Industry Experience: over 7 years
Game Catalog: over 200
Licenses: UKGC, MGA, Gibraltar
Top Offerings:
Big Bass Bonanza – Keeping it Reel
Hot Pepper
Reel Banks
Candy Stars
Floating Dragon Megaways
3. 3 Oaks Gaming
3 Oaks Gaming's bread and butter is high-quality slot games. Utilizing its innovative tools, the firm creates top-notch titles that offer outstanding amounts of backend data and customizability options. Its flexible real-time analytics software will give operators a complete picture of their business's performance, allowing optimizations to be made for increased player engagement and retention figures. Additionally, the firm's customizability options include support for nearly 20 languages and pretty much all of the world's currencies, making the developer a great choice for an international operator. 3 Oaks Gaming is licensed under the gambling laws of the Isle of Man, allowing its products to be distributed in a number of jurisdictions.
Industry Experience: over a year
Game Catalog: over 50
Licenses: Isle of Man
Top Offerings:
Sticky Piggy
Aztec Fire
Big Heist
Lotus Charm
Magic Apple 2
4. Evoplay
Offering a vast catalog of over a hundred high-quality titles, Evoplay delivers a top-notch product to its partners. Its games are available in over 50 jurisdictions with over a hundred currencies and in over 20 different languages, making it an ideal choice for an operator spanning multiple markets. Built on the studio's highly customizable game engine, Spinential, its products can be played on nearly all devices out there, making them ready for the rapidly expanding mobile gaming sector. Evoplay has worked with some of the industry's most prominent operators and aggregators, firmly placing itself above other online casino providers. The firm's offerings have received numerous awards in its time in the industry since its founding in 2017, further solidifying its leading position.
Industry Experience: over 5 years
Game Catalog: over 100
Licenses: Curacao
Top Offerings:
Anubis' Moon
Tree of Light
Treasure Mania
Star Guardians
Dungeon Immortal Evil
5. PopOK Gaming
Delivering a variety of slot, live dealer, and instant games, PopOK Gaming develops highly engaging casino products. Having over 50 products in total, the studio offers a great catalog of titles for its partners. All of its games are built with extra attention paid to the ever-growing mobile vertical to ensure excellent compatibility with all devices. Its comprehensive analytical back office provides operators with detailed statistics and information that is instrumental in improving each product's yield. Apart from their top-notch slots and instant games, PopOK Gaming also offers four classic live casino titles, all of which are streamed from a top-of-the-line studio utilizing cutting-edge broadcasting technologies.
Industry Experience: over 3 years
Game Catalog: over 50
Licenses: MGA, UKGC
Top Offerings:
Crazy Poki
Live Roulette
Multi Fruit
Baccarat
Los Apaches
6. Creedroomz
Creedroomz aims to set itself apart from all other online casino providers by delivering some of the best live casino services on the market. Operating numerous high-quality live-streaming studios, the firm has the capacity to offer nearly 20 unique live games. The provider is one of the few in the industry to be open to creating entirely new products for customers that wish to go that route. The company is ready to go out of its way to ensure customer satisfaction, including hiring and training new staff for operators that require a language that it doesn't offer by default. Furthermore, Creedrooms is quite serious about innovations in the industry, as it is one of the first live casino providers to have an entirely automated live studio operated by robot arms. Its Roba Hall is sure to wow lots of players, which is perfect for operators looking to impress their player base.
Industry Experience: over 12 years
Game Catalog: over 20
Licenses: UKGC
Top Offerings:
Roulette
Blackjack
Bet on Poker
Keno
Baccarat
7. Relax Gaming
Specializing in classic casino experiences such as slots and table games, Relax Gaming offers over 80 high-quality titles with varying themes that boost player engagement and increase the yields of operators. The firm offers a number of exciting gameplay mechanics, further enhancing its products and making them more appealing. Furthermore, in addition to its in-house games, Relax Gaming also has its "Powered by Relax" program that involves collaborations between the developer and a third-party studio to create an extensive catalog of brand-new top-notch titles. It offers over 200 excellent games made by Relax Gaming and over 30 of the industry's top developers.
Industry Experience: over 12 years
Game Catalog: over 75
Licenses: UKGC, MGA, AGCO, Gibraltar, ONJN
Top Offerings:
Powerspin
Money Train
Wild Chapo
Banana Town
Space Miners
8. Play'n GO
Play'n GO is a leading iGaming developer. Being based out of Sweden, the company employs an expansive team of hundreds of professionals who have developed a catalog of over 280 top-notch games since the company's founding in 2005. Play'n GO specializes in the creation of traditional online slot games, although its portfolio of products boasts a few other types as well, such as table games. Moreover, apart from online casino products, the game provider also develops an omnichannel gambling solution called OMNY. The offering allows operators to integrate gambling experiences on both the retail and online verticals which gives players the ability to switch between the two and between different devices seamlessly. Play'n GO's retail terminals are also cashless, meaning that players will be able to utilize the digital payment methods they have set up on their accounts.
Industry Experience: over 18 years
Game Catalog: over 280
Licenses: MGA, ONJN, AGCO, Gibraltar, UKGC, HGC, KSC
Top Offerings:
Athena Ascending
Wild Bandolier
Craps
Moon Princess Trinity
Colt Lightning
9. NetEnt
Having over two decades of experience in game creation, NetEnt is a popular online casino game provider. Being part of Evolution group, the firm focuses mainly on online slot games and diversifies the portfolio of its parent company. Its own catalog of games contains over 200 top-notch titles that feature entertaining gameplay mechanics and stunning visual fidelity. The game provider also offers pooled jackpots, which further drive engagement and grant partner operators low churn rates. Additionally, NetEnt's associates can also take advantage of a number of the casino game provider's services, such as its business intel, regulated market entry, and professional training solutions. The firm also offers technical support, account management, and website hosting services, through which operators can get up and running with NetEnt games quickly and effortlessly.
Industry Experience: over 20 years
Game Catalog: over 200
Licenses: MGA, UKGC, Gibraltar
Top Offerings:
Gordon Ramsay Hell's Kitchen
Let It Burn
Dead or Alive 2
Starburst
Gonzo's Quest
Conclusion
To sum it up, it is important to choose the right online casino provider when integrating games into an online casino. As they are the main attraction for players, having a wide variety of titles will lead to a wider variety of people making use of an operator's services. Making a final decision is not that easy, however, as there are many factors to look at when choosing which developer to work with, the most important ones of which we discussed above.